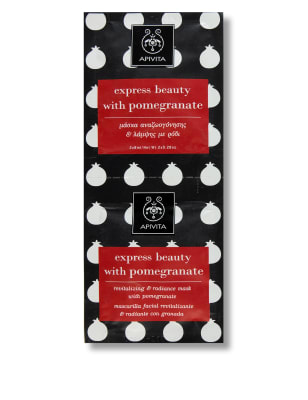 Hello, and happy Sunday! As it is a Sunday, I thought it was a good opportunity to try out a new face mask that I bought last week: the Apivita Express Beauty with Pomegranate. I have very sensitive skin, so I'm always a bit apprehensive when it comes to trying out new products, which is why I only bought the sample sizes of this mask -
£3 from M&S
- before splashing out on the full sized tube. Anyway, on with the review!
I really liked the consistency of this mask - it was thick and didn't just slip off my face, but still felt very moisturising and liquidy. My skin looked and felt instantly brightened and rejuvenated, especially after a tiring week, so the mask definitely does the job! I'm not really sure what the little beads in it did, but they were a nice dark pink colour, so that counts for something, right? I also don't know if it was supposed to feel hot on my face, but I quite liked that it did because it felt like it was doing something!
All in all, I liked this mask - it wasn't spectacular, was it was a joy to use and did brighten my skin, so I can't complain! I might try out a few more of the express beauty sachets in different flavours (are they flavours?) before committing to a full sized tube though.
Have you tried any of the Apivita face masks? What did you think? Thanks for reading!